Celebrate the holy days enveloped by the uplifting spirit of discovery and solidarity.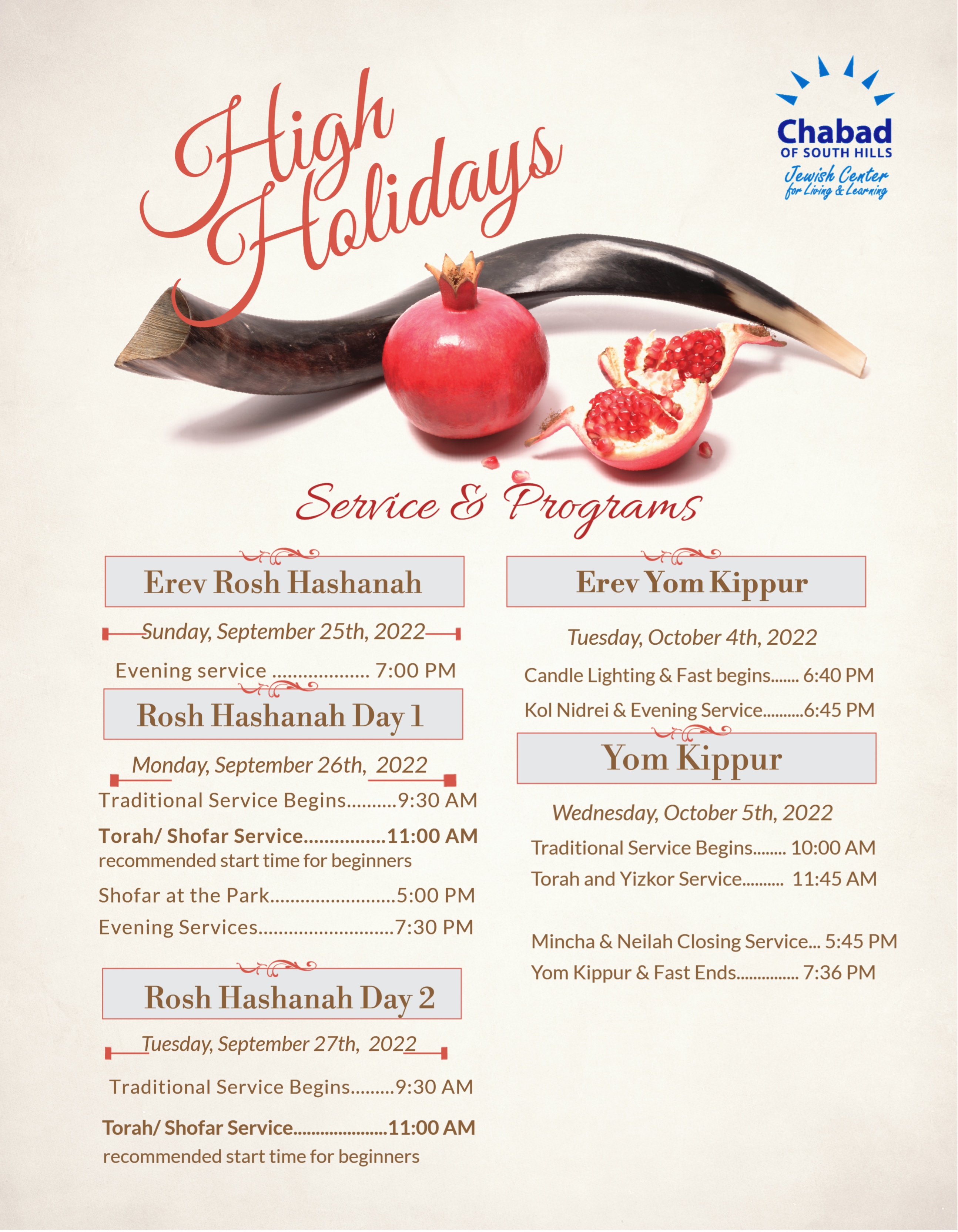 Chabad of the South Hills would like to invite you to join us for our High Holiday Services held at our facility in Mt. Lebanon. Enjoy an inspiring synthesis of delight for body and soul. The atmosphere is as physically comfortable as it is spiritually warm and inviting. Services are not only about prayers and rituals but moreover about celebrating one's Judaism as a dynamic and enriching community experience — an experience harmoniously shared by Jews of any and all backgrounds.

Although there are not tickets neceesary for services at Chabad, please make sure to RSVP for the High Holidays to help us plan and to be kept informed of any changes that may take place. 

We will be holding two services:

Traditional Service - Our regular High Holiday services, filled with contemporary messages and insights in a warm and inviting atmosphere.
Shofar at the Park - Come by for 45 minute outdoor High Holiday service. Enjoy a unique Rosh Hashanah experience filled with Holiday prayers, short Dvar Torah, Shofar blowing and Apples and Honey.
When
September 26th, 2022 9:30 AM through October 6th, 2022 8:00 AM
Location
1701 McFarland Road




Pittsburgh

,

PA

15216




United States
High Holiday Reservations 5873
How Many Adults
1
2
3
4
How Many Children
1
2
3
4
Which Services will you Attend
Rosh Hashana Evening 1 - 09/15/23
Rosh Hashana Day 1 - 09/16/23
Rosh Hashana Evening 2 - 09/16/23
Rosh Hashana Day 2 - 09/17/23
Shofar at the Park- 09/17/23
Yom Kippur/Kol Nidrei 09/24/23
Yom Kippur Torah/Yizkor Service 09/25/23
Yom Kippur Neilah/Breakfast 09/25/23
Donations/Sponsorship
Suggested Donation Per Adult
$125.00
Suggested Donation Per Couple
$200.00
Apples & Honey Sponsor
$360.00
Pomegranate and Prayers Sponsor
$540.00
Book of Life Sponsor
$1,800.00
High Holiday Underwriter
$3,600.00
Any Amount